Description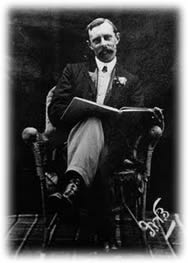 FWB arrived in Hobart Tasmania in 1906 to take up the prestigious pastorate of the Hobart Baptist Tabernacle. While Mosgiel had made a pastor of him, Hobart made him a preacher. The church congregation doubled in size over the ten years he was there as people came to hear the amazing skill which Boreham displayed in the pulpit. Soon, other preachers were travelling from around Australia and the world to come to Hobart simply to hear F.W. Boreham preach.
But while Hobart was the making of FWB as a preacher, it was also the breaking of him as a pastor. When World War 1 broke out, Boreham was keen to rally the young men to the cause of the Empire. But as the news of their fatalities reached the desk of FWB by Official Telegrams which he was obliged to deliver to the parents of these boys, his attitude about the War and Empire dramatically changed. Ultimately it broke him.
In this DVD you will journey with FWB as he tells his story of what happened in Hobart. You will witness the beginning of his international writing career, and how he grew into a world-class speaker.